Our Involving People Plan 2019/20 recognises the important contribution that people with lived experience of social services and caring make to our work.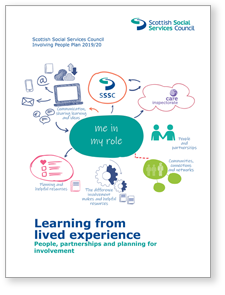 We'd like to thank everyone who contributed to the development of the plan.
We have called this plan, Learning from lived experience: People, partnerships and planning for involvement based on feedback from those involved in developing it and in recognition of the many ways that people with lived experience of social services (people who use or have used social services and people who are carers) in Scotland can contribute to our work.
This may be directly through our staff or through our work with organisations and communities. People with lived experience are involved in our work in different ways.
We recognise the need to plan and coordinate involvement so we can measure the impact it has and the difference it makes to everyone involved. We want to make sure that involving people with lived experience of social services in our work is meaningful and of benefit to them, the people who work with us and to the organisation.
SSSC Equalities
Find out more about the duties we have under the Equality Act 2010.
Visit the Equality page
Careers in social services
Start your life changing career in social services by exploring our careers website.
Visit the careers website