Our resources can help you start and develop your career in social services. We also have resources for employers to support values-based recruitment.
Career pathways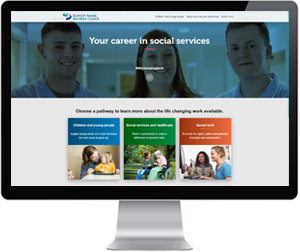 Our career website gives you everything you need to know for getting started. There are examples of what working in social services is like and you can see the qualifications and roles you can achieve throughout your career.
Other resources from SSSC
A Question of Care: a career for you?
Try this interactive video challenge to find out if you would enjoy working in social services. At the end you'll receive a detailed personal profile about your values. Use this to identify your strengths and areas where more learning is required. You can even use it to prepare for job interviews.
Studying for your qualification
We've put together some information about qualifications you can achieve at work, as an apprentice, at college or at university.
Communication skills for caring
learn.sssc.uk.com/communication/
Would you like to strengthen your reading, writing, speaking or listening skills? Perhaps you speak another first language and want to improve your English? Communication skills are important in social service careers and this website points you to some online, local and national resources which can help you.
A Career in Social Services - a job like no other
Our careers booklet gives you practical information on starting a career in social work, social care or children and young people settings. It also tells you how you can gain experience by volunteering.
Right values right people
Values-based recruitment is important in attracting and retaining the right staff in social services. Our values-based recruitment toolkit has helpful information for employers and workers. This includes videos, examples of behaviours tool and example interview questions.
Careers in care at SSSCnews
Keep up to date with new developments on our social service news website
news.sssc.uk.com/news/t/careers-in-care
Care in Scotland – it's life-changing work
Read our case studies to get a realistic picture of the work you will do. You can read about:
Open Badges
Would you like a way to demonstrate your knowledge and skills to employers? Would you like to keep a digital record of your learning? You should sign up for Open Badges. Here are some suggested badges to get you started:
Writing evidence for Open Badge submissions
www.badges.sssc.uk.com/badges/evidence/
Health and Social Care Standards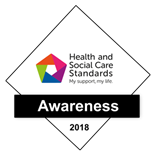 www.badges.sssc.uk.com/badges/health-and-social-care-standards-awareness/
Got a question? Read our frequently asked questions about working in social services or contact us if you would like further guidance.