Supporting newly qualified social workers (NQSWs) in Scotland
Our national project aims to make recommendations for a newly qualified social worker (NQSW) supported year in Scotland.
We have a new dedicated website that will:
provide information for all NQSWs, their employers, managers and supervisors

support consistency for the NQSW first year of practice

provide information about the current requirements for NQSWs

show the work we are doing for the future.
The website will continue to evolve as our national project develops and we will be using the website to keep everyone up to date.
NQSW Supported Year in Scotland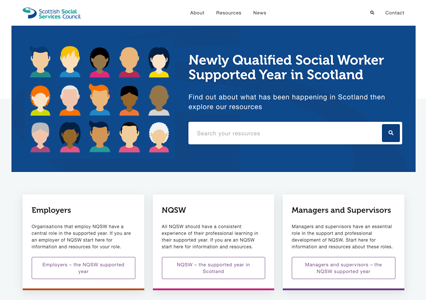 Although some work is still in progress, we want to provide as much clear information as we can for NQSWs, their employers, supervisors and managers. We also want to share some learning resources that may be helpful.
The information and learning resources have been informed by our work with employers, managers and social workers from a variety of backgrounds. We will continue to add information and develop resources as we learn through the project.
We've used the research and evidence generated through the Review of Social Work Education in Scotland to inform this work.
You can also find full details of our national longitudinal research project into the experiences of NQSWs in Scotland.
NQSW continuous professional learning
Find out what continuous professional learning NQSWs must do.
Find out more here