If you have gained a qualification that meets the requirement for your qualification condition, for us to update your record, we require you to provide evidence of your new qualification. 
At this point, we would usually ask you to provide a verified copy of your qualification certificate from your employer. However, we understand the pandemic may mean you might not be able to get qualification certificates verified.
We are now temporarily accepting an unverified photograph of your original certificate as evidence due to the pandemic.
Find out more about how to provide us with evidence of your qualification through MySSSC in the six steps below.
1. Login to MySSSC
2. Click on the 'My registration conditions' tile


3. To access your condition, click the pink arrow & select 'update'

4. Answer 'yes' to the question 'Have you gained a qualification to meet the condition on your registration?

5. Click the 'add document' button and attach a photograph of your qualification certificate.  Then click the 'save' button to send to the SSSC.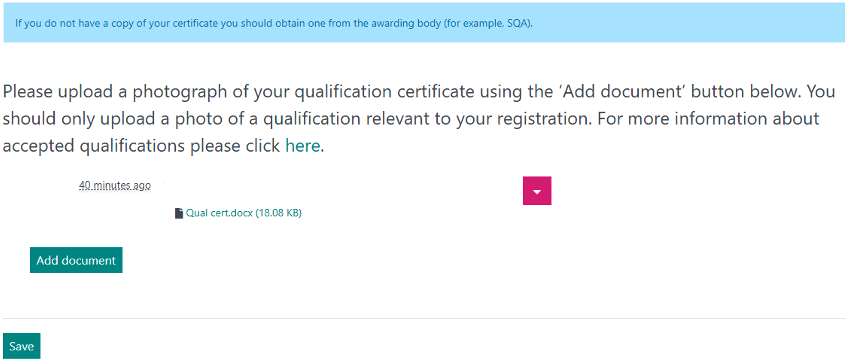 6. If the qualification supplied meets the condition on your registration, you will receive an email to confirm this and your Registration status will be updated.