After your application is endorsed, you'll receive an email letting you know to pay your application fee online. If you choose to pay by another method, such as phone, you must still complete the application to tell us how you paid.
This is how to do that.
1. Log in to MySSSC
2. Click on the box 'Applying for registration, Start an application, Continue an application or Make/confirm a payment'.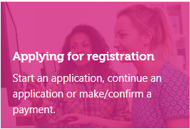 3. Click the 

icon and 'Go to application'. Your application summary will come up with a 

button in the top left corner. Click on make/confirm payment.

4. Click on your chosen method of payment and then select the Next button 

 to continue.

Please note – if the fee amount shows 'Awaiting payment' then the fee is still being calculated. This can take up to five minutes to appear.
Once you have completed this section, your application will be submitted to us. You will also receive an email confirming this.
Back to MySSSC FAQs