Most applications should be electronically endorsed, meaning we will email employers asking them to verify your application.
If you choose manual endorsement it means you need to print your application and get a countersignatory to sign it before posting it to us.
You should only choose manual endorsement if:
you are a student
there are no countersignatories set up on MySSSC for your organisation.
To make sure you choose the right option, follow these steps.
Make sure you have completed all sections of your application form.
Make sure you have selected the correct employer.
In the endorsement section, click 'Choose my countersignatory'.

The following screen should appear, with details of the organisation you work for. Click on the arrow to see a list of countersignatories for your organisation.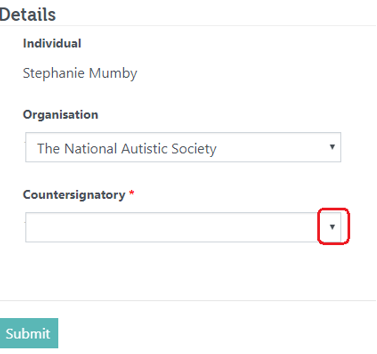 5. Choose a countersignatory from the list. Please note if you only have one employer you should only choose one countersignatory.
6. Click submit to select this countersignatory for your application.
7. Click Send to my countersignatory to send your application to your countersignatory for endorsement.

If the organisation is blank, or the there are no countersignatories listed, this means that they do not exist on our system and you must choose 'I will print my application'.

If you choose this option you will need to print your application, get your countersignatory to endorse it, then post it to us. If you are choosing to print your application, you will also need to call 0345 60 36 979 to make your application payment or download a Direct Debit Mandate from our website and post this with your application.
Back to MySSSC FAQs