Social services that employ SSSC registered staff can use our logo on their website to help promote the benefits of registration to their service and the people who use the service.
How do services get the logo?
You can download the logo for your website below and should link it back to this page: http://www.sssc.uk.com/knowledgebase/article/KA-02514/en-us To download the logos right click on the image and select 'save picture as'.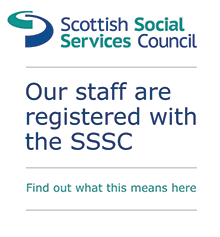 What is the SSSC?
The Scottish Social Services Council (SSSC) is the regulator for the social service workforce in Scotland. Our work means the people of Scotland can count on social services being provided by a trusted, skilled and confident workforce.
We protect the public by registering social service workers, setting standards for their practice, conduct, training and education and by supporting their professional development. Where people fall below the standards of practice and conduct we can investigate and take action.
We register workers in:
day care of children
residential child care
care homes
care at home
housing support
adult day care services
school hostels or residential special schools
social work students
social workers.
How does using the logo help services?
Social service providers can use the SSSC logo to show their staff are registered with us and provide reassurance to people using services that workers have the right skills, knowledge and values to do their role.
To be on the register workers must already hold or be working towards a job specific qualification. To check if workers at the service you are using are registered you can Search the register.
Our Codes of Practice set out the standards that workers and employers have to meet. If workers fail to meet these standards we can investigate their fitness to practise. If employers fail to meet the Codes the Care Inspectorate can take action.
If you have concerns about a worker see our Raising a concern page.